Ladakh Tourist Destinations, India is a country full of mystery with unsuspected discoveries, with sublime charms to discover and explore from north to south and from west to east. A trip to Ladakh is very special and requires special preparation due to the altitude and the adaptation time there. Visa terms are to be considered as they are mandatory in India before your arrival. Our agency will offer you different possibilities to stay in Ladakh and help you organize your trip.
We will take the opportunity to offer you tours in Ladakh!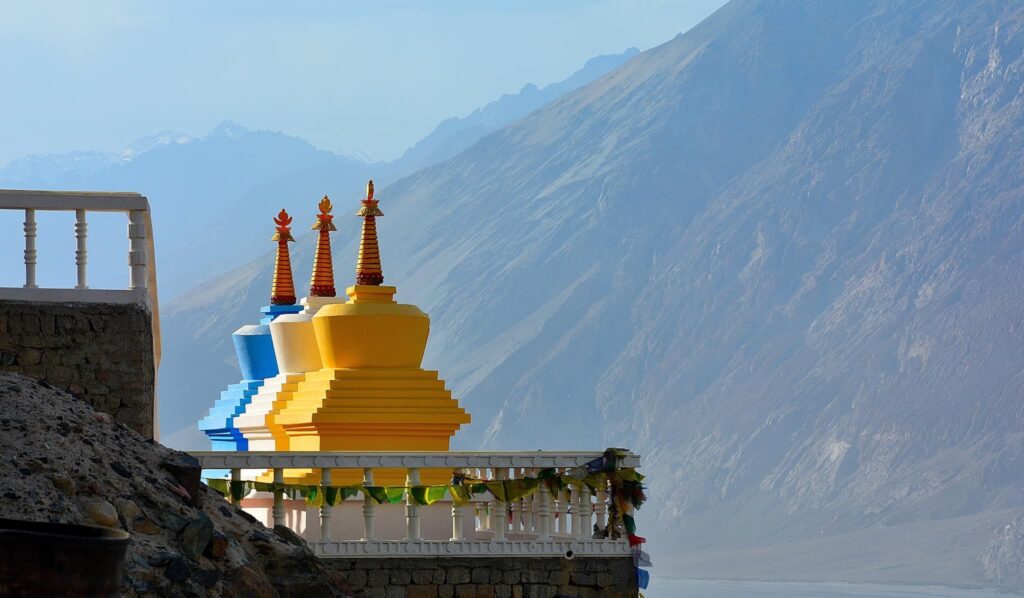 A Glance in Ladakh

If you are passionate about adventure & wide open spaces, a trip to Ladakh is perfect for discovering an ineffable natural setting full of riches and authenticity. You just have to listen carefully to the breath of the wind of Ladakh, a real call to a fabulous adventure in the heart of this sumptuous region!
A trip in Ladakh is an adventure that will take you to the roof of the world, a wonder before the splendors of the Himalayas, the green of its prolific oases of apple trees, the fantastic blue of its high lakes, the white of the high peaks covered with snow form an incomparable setting.
Let yourself be intoxicated by the idea of spending a dream vacation enjoying the rich flavors of nature, exploring mythical landscapes, isolated monuments and trying to immerse yourself in the way of life of the villagers. Ladakh, known for its lunar landscape, has enough to satisfy your thirst to learn about cultural diversity, erratic climatic conditions. And to cut clean with the routine.
Since Ladakh was rediscovered by travelers, it has become a popular destination for adventure and trekking tours in India. Located 3,000 meters above mean sea level, Ladakh is blessed with ideal tourist attractions to quench the thirst of anyone seeking adrenaline rush. Remote and inaccessible, Ladakh has become an even more coveted travel destination, more appreciated by adventure lovers who are looking for new challenges, new trials to motivate themselves more, to find a new breath.
Why travel to Ladakh?
A tour in Ladakh is ideal for an unforgettable experience. It is a country that satisfies both young travelers who want to explore and go on an adventure and older people who want to relax and rejuvenate. Here are the main reasons why you should visit Ladakh.
Beauty of the Landscapes
Ladakh, land of high passes, is located in the Himalayan chain of Jammu and Kashmir. It is dominated by the Himalayan and Karakoram mountains. It is in this remote region of snow-capped peaks, perennial streams and blue skies that there are many Buddhist monasteries perched dangerously on incredible rocky outcrops.
It is the ideal location for nature lovers, photography aficionados and those who would appreciate a peaceful scenic environment.
Colorful Festivals
Ladakh is famous for its many vibrant and interesting festivals like Dosmoche, Hemis, Phyang or Thak Thok Losar festivals, and others. This is actually the best time to visit Ladakh, where there is a lot to see and discover and lots of entertainment.
Each festival is associated with different events and you can witness colorful dances, different unique style ritual celebrations and theatrical performances. You can also find many musical instruments at work. Best of all is the dance of the masked lamas during the Hemis festival.
Outdoor activities
There are plenty of outdoor activities in Ladakh. There are plenty of places for trekking. If you don't like trekking to Mount Everest, you can trek to other peaks or to popular monasteries. The highest peaks to climb are Nun-Kun, Jang Yatse and Stok Kangri.
On your way, you will be entitled to exceptional panoramic views, you will visit wonderful villages and valleys. You can walk through mountain passes. The three highest mountain passes in the world, namely Kardung La (5,359 m), Tanglang La (5,359 m) and Namshang La (4,800 m), are found in Ladakh. Many tourists from different parts of the world visit Ladakh in the summer to enjoy the drive through these passes.
Ladakh Tourist Destinations :Exploring Monasteries and Gompas
You will find many ancient monasteries and gompas there which are actually Buddhist complexes. You can walk to some monasteries and stay there for a few days for free. You can participate in rituals or simply explore these monasteries. Many monasteries have old manuscripts, antiquities, old decorative elements and others. Many festivals are celebrated only in these monasteries. Major monasteries in Ladakh are Thikshey, Hemis, Stakna, Matho, Spituk, Alchi and others.
Relaxation and rejuvenation
Whichever place you choose to visit in Ladakh, relaxation is guaranteed. You can relax, enjoy nature and recharge your batteries. There are many monasteries that help you meditate and find inner peace. You don't have to stick to monasteries alone. A solitary early morning walk in Ladakh will refresh you in minutes.
Ladakh Tourist Destinations :Adventure
Want to see the Snow Leopard? Do you want to drive well on the highest mountain passes in the world? Do you want to go rafting or trekking? Are you an adventure lover? Ladakh is the best place to get adrenaline pumping and experience moments of ecstasy.
Lakes
The lakes here are extremely peaceful and breathtaking. The best lake to visit is Pangong Lake, which changes color throughout the day. It is a wonderful lake where you can also camp nearby. During the winter, this lake becomes a thick land of ice, where people play cricket or drive their cars. The temperature reaches -30 degrees Celsius and we should perhaps prepare for it.
Fauna
If you visit Ladakh in winter, you may not be able to enjoy trekking or mountain passes. But, on the other hand, you can discover a whole new amazing world here, the world of Narnia, very real and not fictitious, where the spectacle is guaranteed. Here you will find the Snow Leopard, Greater Bharal or Blue Sheep, Magpies, Mountain Wolf, Wild Hare and many other Himalayan animals and birds.
Live a fiery romance
This may be due to the extremely cold climate, the serenity that emanates from this place or the excitement that ignites the air. Ladakh is one of the romantic places to set the tone for newlyweds on their honeymoon and even old couples seeking romance to rekindle their old flames. A pleasant week in the coldest part of the country can ignite love and magically ignite love passion like you've never felt before.
So there are many reasons to travel to Ladakh. It is one of the most wonderful, exciting and peaceful places in the world. It's the perfect place for everyone. For your child in full adolescence, for your wife and for all those looking for a new lease of life, looking to break the routine or simply for all those who love this kind of landscape. Are you looking for a magical and entertaining weekend? Ladakh is the perfect place for your next vacation.
How to reach Ladakh ?
Ladakh is considered one of the most popular travel destinations for young people. Bikers love the route from Kashmir or Manali to Ladakh which is one of the most scenic journeys one can choose to undertake. Considered a mysterious lunar country, the trip to Ladakh is particularly attractive because there you learn to go beyond your limits and overcome your depression.
Ladakh, India is the place that brings together people who are looking for adventure. Nestled in rugged valleys, 3,000 meters above sea level and remarkably situated between the Himalayas and the Karakoram range, Ladakh offers the best panoramic views of the snow-capped mountain peaks.
A road trip for young people visiting Ladakh is a unique moment of ecstasy ever experienced. Stunning valleys, winding hairpin roads, breathtaking views of vast, endless landscapes, the life of the natives within the mountains and the unique golden rays of sunsets at the 3,000 meter summit, this these are the ingredients for a unique and unforgettable trip to a special country. However, travelers should be aware that Ladakh in all its glory is not always accessible for tours. The roads that lead to Ladakh only remain open from May to October. The rest of the months they are covered in deep, impenetrable snow.
Nevertheless, the route from Manali or Srinagar to Leh in Ladakh proves to be the most scenic and highly recommended for travelling.
Here is a complete guide on the means of transport you can take to reach Ladakh and make the most of the trip:
Reach Ladakh by air
The nearest airport is Leh, called "Leh Kushok Bakula Rimpochee Airport"; it is well connected to Srinagar, Jammu and Delhi. You can easily get quality flights from Go Air, Air India and Spice Jet. Regular flights from Delhi, Chandigarh and other cities return from this airport. Taxis are available in abundance outside the airport to take you to your accommodation, of which there are also plenty in Leh.
There is still a small problem to take into account when planning a trip by plane. Indeed, although the schedules are fixed, flights are often delayed due to difficult weather conditions. It is therefore advisable to be patient and be flexible in your plans.
Reach Ladakh by road
Srinagar to Leh – first option:
You can reach Ladakh from the Kashmir valley by taking one of the most scenic routes, which passes through the historic country of Kargil, which is about 434 km away.
The route remains accessible from early June to November. The iconic Zoji-La pass of the Himalayan mountain ranges forms the gateway to Ladakh, located at approximately 11,500 feet or 3,505m above sea level. J&K State Transport Corporation offers regular, regular and deluxe buses for travellers, between Srinagar and Leh.
An overnight stay in Kargil is sometimes necessary. You can also hire jeeps or taxis which are available in Srinagar. Luxury buses and other large vehicles for people traveling in groups are also available in Leh, Kargil or Padum.
Access by road to Ladakh is only possible from May to September, because in other months the road is covered with snow. The long, well-built, traffic-free streets that lead into Ladakh are by far the most appealing to anyone with a passion for roads and driving.
From Manali to Leh – second option:
The Manali to Leh road which has been in existence since 1989, 473 km long, is another tempting road that leads to Ladakh. The road is open from mid-June to early October. It crosses picturesque places like the desert plateau of Rupsho which is about 4,570 m above sea level. There are a small number of high passes on this route such as the iconic Taglang-La, which is the second highest motorized road in the world, being in fact located at 17,469 feet above sea level.
Himachal Pradesh Tourism Corporation buses are also available for people coming from Manali. It usually takes 2 days to reach Ladakh with overnight stay in camps in Sarchu or Pang. Jeeps and taxis are also a good option.
Significant distances between major cities if you take the road:
Srinagar – Leh: 434 km
Manali – Leh: 473 km
Srinagar – Kargil: 204 km
Delhi–Leh: 1,047 km
Leh – Kargil: 234 km
Kargil – Padum (Zanskar): 240 km
Leh – Deskit (Nubra Valley): 118 km
Although the journey may seem daunting, it is an experience worth all the effort and money you will have spent to reach the Leh Valley. It is undoubtedly one of the best adventures you will ever experience and the beauty of the landscapes will remain unmatched!
A tour in Ladakh can only be a moving experience because of the breathtaking and sublime beauty of the imposing panoramic views, because of the striking and impressive contrasts between frozen deserts and green oases, lunar landscapes and inaccessible peaks, the ravined faces of the inhabitants by the icy wind and the unalterable smiles encountered at the bend in a path.
So go ahead and hit the road!

Visit the best places in Ladakh
The city of Leh
Leh, the capital city of Ladakh region, is in the Jammu and Kashmir region in the far north of India. Nestled at 3,500 m on a steep ridge, this surprising city is one of the highest in the world. Leh, with its approximately 30,000 inhabitants, is one of the essential destinations for a trip to Ladakh.
Magnificent Buddhist monasteries in the Leh region are worth visiting as well as some very old palaces. Strolling in Leh is very pleasant to explore the city, the colorful markets and the particular atmosphere of the life of its inhabitants. The towering Himalayan Mountains are a destination for trekking and hiking.
Crowned by high snowy peaks, this city presents the spectacle of an extraordinary landscape, with on one side arid mountains without vegetation with multiple colors of rock and on the other valleys with cultivated land.
Because it is very close to Tibet, the Ladakh region was named: "Little Tibet". It is also very distinct from the rest of India. For example, when a huge part of India is experiencing its monsoon period, Ladakh, on the other hand, is sheltered from it, due to its location. It is recommended to visit this region of northern India between June and mid-September to be able to travel by road. You have the choice to combine a circuit in Ladakh with a trip to Rajasthan. Countless sites, each as exceptional as the next, are to be discovered in Leh or its region, during a trip to Ladakh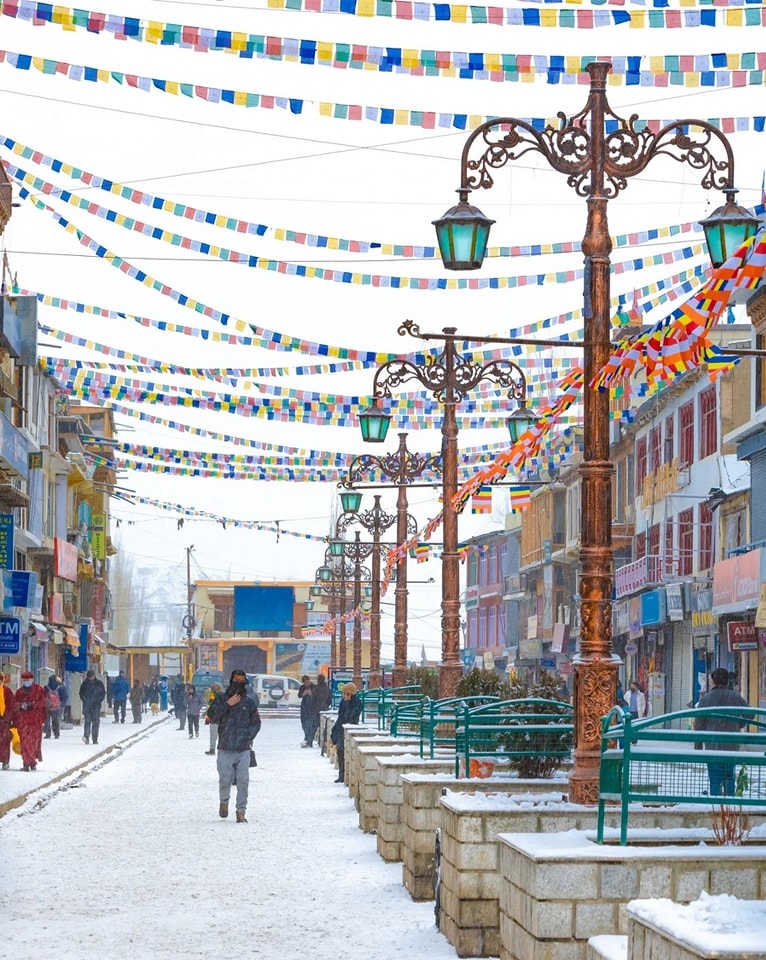 Leh Palace
Overlooking the city of Leh, this 9-storey palace was erected at the beginning of the 17th century by King Sengge Namgyal. It has many similarities with the Potala Palace in Lhasa in Tibet, but it is smaller in size. The upper floors were inhabited until the 19th century by the royal family, before they abandoned the palace when the forces of Dogra took control of Ladakh. Currently neglected, the palace is being reconstructed by the Archaeological Survey of India, a government agency for archaeological research and the safeguarding of the country's archaeological heritage.
Mangyal Tsemo Gompa
At the top of Namgyal hill is this small Buddhist monastery built in 1430 by the king of Ladakh, Tashi Namgyal. Built in red brick, this Gompa houses an imposing solid gold statue of Buddha Maitreya, three stories high. You can also find old manuscripts, paintings and statues of Avalokitesvara and Manjushri. The monastery is open to the public all day long, but the best time to visit it is either in the morning or in the evening, when the monks perform their religious rites. It is necessary to plan 20 rupees for the access rights to the monastery.
Shanti Stupa
This stupa, covered in white, is located at an altitude of 4625 m. It was built in the early eighties of the last century by the Japanese to promote peace in the world. However, it was not until 1985 that he was crowned by the Dalai Lama. The Shanti Stupa contains two Buddha statues, one in front and the second at the back of the monastery.
The Sankar Gompa
Built in the 19th century, this two-storey Buddhist monastery belongs to the reformist Gelugpa sect. Inside, there is the portrait of Kushok Bakula Rimpoche, the former Grand Lama of Ladakh, who died in 2004. Today, the monastery houses 20 monks. It can be reached on foot from Leh city. You can visit it in the morning and in the evening.
Hemis Gompa
It is undoubtedly the largest monastery in Ladakh, with its 500 monks. Built in the 17th century under the dynasty of Sengge Namgyal, this religious building hosts the Tse-Chu festival every year. This event is organized to celebrate the anniversary of the birth
of Padmasambhava, the forerunner of Buddhism in Tibet. Moreover, his statue is still camped inside the monastery.
Shey Monastery
This Gompa was built in the 17th century by King Deldan Namgyal to commemorate the memory of his father, Singge Namgyal. He was called Shey, which translates to "looking at the mirrors", because you could see his image taking shape in the small lake at the foot of the hill. This monastery is also characterized by its alignment of stupas. A gigantic Buddha statue 12 m high, all in gilded copper, majestically occupies the main sanctuary.
Matho Monastery
It is the only Ladakhi monastery attached to the Sakyapa order, one of the main schools of Tibetan Buddhism. Located at an altitude of 3,600 m, this Gompa hides invaluable treasures related to the Ladakhi heritage, such as this magnificent collection of tangkas (very colorful paintings on fabric) which dates back to the 14th century or as well as the bronze statuettes.
In 2010, the monks called on the French expert in Himalayan art, Nelly Rieuf, to restore this magnificent collection and to set up a museum.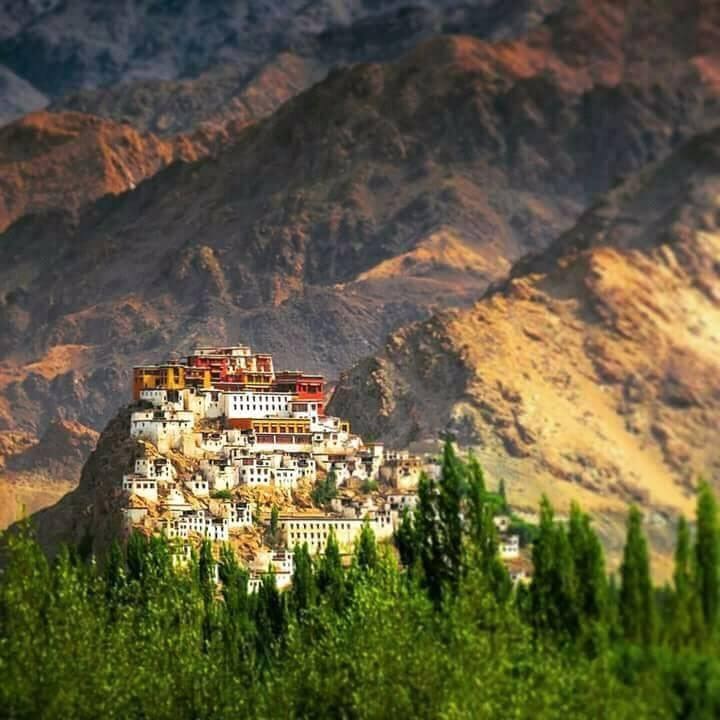 The Nubra Valley
It is also a must-visit destination when planning a Ladakh tour. This region located in the far north of India was called "the forbidden valley", because the army had forbidden access. It was in 1995 that we can again to walk there but on the condition of having a special permit. To reach the Nubra Valley, you have to follow the Khardung La, the highest pass in the world located at 5400 m altitude. The valley is very famous for the amazing greenery of its landscape and also for its sand dunes.
Lamayuru Monastery
Formerly called "Yung-dung Thapa Ling", this monastery, which dates from the 11th century, is one of the largest and oldest in Ladakh. The site contains a good number of murals but also a plethora of statues. At present, the monastery hosts about 200 monks and lamas including 50 children who follow their teaching within the monastery.
Pangong lake
This huge Himalayan lake is located at an altitude of 4,250 m. It extends over a length of 134 km, divided between India and Tibet. But two thirds are on Chinese lands.
Although salty, this lake freezes completely during the winter, which is a bit unusual. However, navigation is not permitted on this lake, as a safety measure because it crosses two countries. Special authorization would therefore be required, but this can only be issued for a group of at least 4 people.