India, a vibrant and captivating country in South Asia, a destination known for transporting its visitors into an enchanting world of beauty and culture, is also a country incredibly rich in natural diversity, particularly when it comes to its wildlife. National parks and nature reserves dot the country, providing refuge for many iconic animal species and most Endangered Animals.
India is not just about these national parks, it is also known for its nature reserves, bird sanctuaries and lush forests. Each region of the country offers a unique experience to discover Indian flora and fauna.
The preservation of these animal species is a priority in India. Local authorities and nature conservation organizations are actively working to preserve these habitats and combat poaching.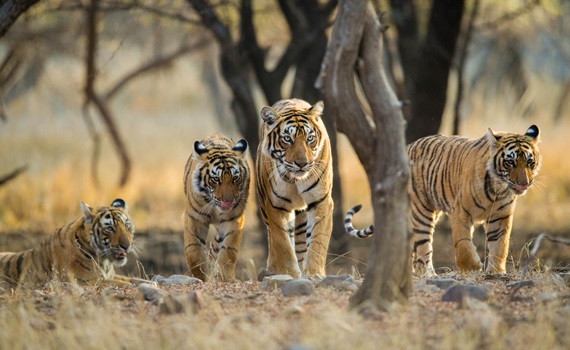 Focus on Wildlife
Delighted Journey offers a typical animal observations: red pandas, falcons or the mythical snow leopard. You can also opt for a raccoon cat and Bengal tiger watching cruise through the mangrove forests in the Surdarbans National Park, where the Ganges and Brahmaputra rivers join to create a delta towards the Gulf of Bengal.
Seasoned adventurers will look for red pandas on the Himalayan borders between India and Nepal, or the Snow Leopard in Ladakh in Winter.
The must-see tourist spots
The three main national parks of Madhya Pradesh: Pench, Kanha, and Bandhavgard Parks are home to one of the most majestic animals in the country, the Bengal tiger. You will probably be lucky enough to be able to observe these felines walking freely in their natural habitat and see most Endangered Animals. Jeep safaris in the park allow you to get up close and personal with these magnificent creatures and discover their way of life and hunting. Besides the tigers, there are some leopards, bears, hyenas, gaur, sambar (the great Indian deer), causing (the only four-horned antelope in the world), wild dogs, and many species of birds.
In the state of Gujarat, the Gir National Park is the only place in the world to see Asiatic lions in their natural habitat!
Beautiful parks are also found in Rajasthan. In Ranthambore live Bengal tigers, In Bera, leopards coexist with the Rabaris, a community of shepherds who are distinguished by their white tunic and red turban. As for the Bharatpur Bird Sanctuary, it is a must for bird fans.
In the state of Karnataka, not far from the famous city of Mysore, a black panther or rather a male melanistic leopard called Saya, dominates and controls a large part of the reserve, he has become extremely confident in his rule, often allowing privileged meetings. It can be seen during a jeep or canoe safari in the thick and tangled vegetation of the Kabini / Nagarhole National Park. You will also observe Asian elephants, tigers and leopards, numerous deer and hundreds of birds.
The natural parks of Assam, in the north-east of India, are of unsuspected richness, across varied territories, from the Himalayan foothills to the banks of the Brahmaputra via impenetrable forests. Nature is king with exceptional biodiversity and wildlife including Bengal tigers, elephants and one-horned rhinoceros, an endangered species, in the unmissable Kaziranga Park. Elephants, wild buffalo and a wide variety of birds can also be found there.
Activities and experiences to enjoy wild safari in India
Explore natural wonders: Travel to India's breathtaking landscapes, such as the backwaters of Kerala, the mountains of the Himalayas, the beaches of Goa or the tea plantations of Darjeeling, for experiences of hiking, relaxation and immersion in nature.
Observe unexpected, confidential wildlife by jeep, on foot, by canoe and on cruises.
India's national parks and wildlife reserves
The list of national parks in India includes over 100 national parks and due to their distribution across the subcontinent, many different animals and plants can be observed. The parks' vegetation offers everything from dense tropical jungle to steppe-like terrain to the foothills of the Himalayas with rugged rocks. Another advantage of the wide range is that a visit to a national park can be easily integrated into a trip to India.
We have put together some of the most popular and beautiful national parks for you.
Bandhavgarh National Park
Located at the foothills of the Vindhya Mountains, the 437 sq km national park is best known for its large population of wild Bengal tigers and is one of the most beautiful national parks in India. The park's landscape is dominated by a massive plateau, which is home to an ancient Maharaja fort. The fortress is surrounded by extensive swamps and grassland with bamboo trees. The swamps were created in the relatively dry region to protect the fort and today serve as a habitat for over 200 species of birds, various species of reptiles, Indian bison, gazelles, sambar deer, and langurs. In addition to the Indian tiger, other predators such as leopards, striped hyenas, and wild dogs also live in Bandhavgarh National Park. The best time to travel to the national park is from Nov to June to see the most Endangered Animals.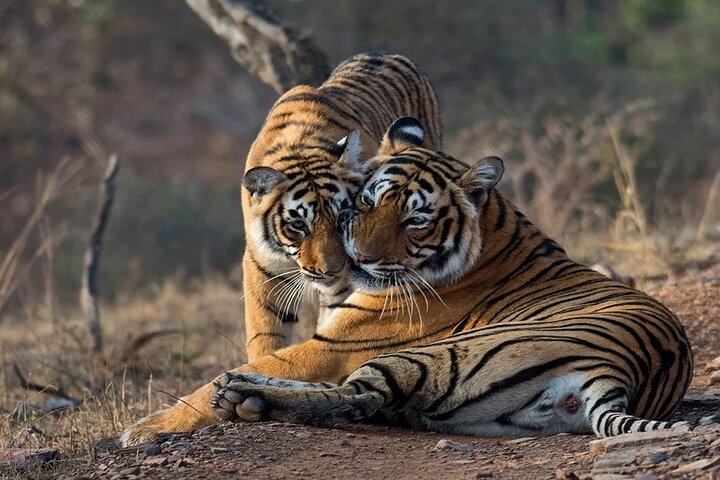 Corbett National Park
The oldest protected area in Asia was founded in 1936, together with the adjacent Sonanadi Sanctuary, which forms the largest tiger reserve in India. The park in the foothills of the Himalayas is characterized by mountains up to 1000m high and wide valleys, most of which are covered with forest. The park area has over 110 different tree species and 500 different plant species. The park is particularly popular because of the Bengal tiger, which with a bit of luck can be spotted on a safari. In addition, leopards, elephants, sloth bears, various game species, swamp crocodiles, and over 500 species of birds can be spotted. The best time to travel to the national park is from November to June.
Kanha National Park
The largest national park in central India served as the inspiration for Rudyard Kipling's "Jungle Book" and in no other park are tiger sightings as common as in Kanha National Park. The area of the nature park is crossed by two large rivers and is characterized by hilly landscapes, river valleys, wide grassy areas, jungle and high plateaus. In addition to the Bengal tigers, this landscape is also home to a relatively large number of leopards, jackals, wolves, striped hyenas and Indian porcupines.
Even though the tigers can be observed regularly by visitors, there is no guarantee of a sighting of animals in the wild. The best time to travel to the national park is from Nov. to June.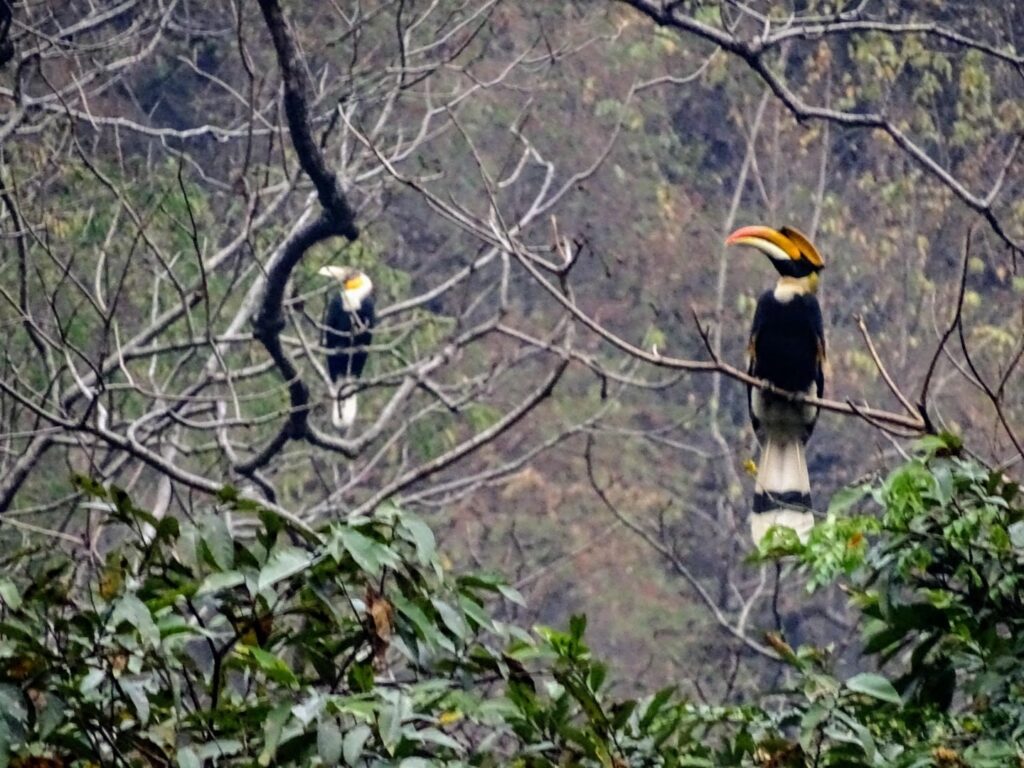 Keoladeo National Park
Not far from Agra is the smallest national park in India, the Keoladeo National Park. The bird sanctuary is also known as Keoladeo Ghana Bird Sanctuary. The former duck hunting ground of the Maharajas is now home to over 360 bird species spread over 29 square kilometers. Cranes, pelicans, geese, ducks, and eagles, among others, spend the winter here, and partridges, peacocks, and cormorants also live here in summer. With a bit of luck, the Siberian crane, which is now critically endangered, can be spotted here. The best time for bird watching is between November and February.
Nargarhole National Park
Located between the Western Ghats and the Nilgiri Mountains, the forest area extends over 640 sq km and, together with the neighboring national parks, forms the largest protected area in southern India. The former hunting ground of the Maharaja of Mysore was declared a nature reserve in 1955. The park area consists primarily of tropical forests, bushes and grasslands and is home to numerous large animals such as elephants, tigers, leopards, sloth bears and Indian wild dogs. Various hoofed animals such as sambar deer, axis deer as well as wild boars, langurs and monkeys can also be found here.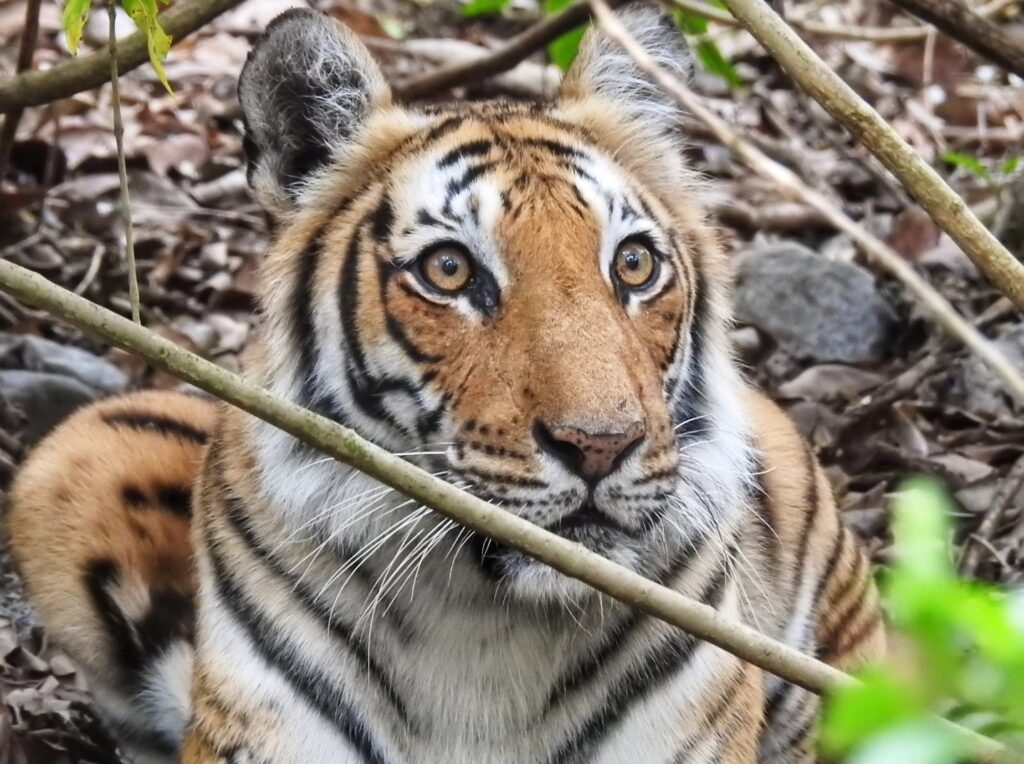 Ranthambore National Park
The national park in Rajasthan is characterized above all by its central location and can be easily integrated into a Rajasthan tour. Due to its relatively high density of tigers, the park is also called the Ranthambore Tiger Reserve. The park's extensive area, with its wide open spaces, small lakes and watercourses, offers a good starting point for spotting a striped Bengal tiger. Even though the probability is higher in Ranthambore National Park, there is no guarantee here either. In addition to the big cats, other animals live in the park, such as various species of ungulates such as sambar deer, axis deer, Nilgau antelope, four-horned antelope, Indian gazelles and wild boar.
The terrain is surrounded by dry rocky areas, small lakes and watercourses. The best time to travel is November or March.
Pench National Park
Located centrally in India, the Pench National Park area extends over the southern foothills of the Satpura Mountains, along the Pench River of the same name. The park's landscape is known for its rich flora – over 1,200 different plant species are native here, including some plants that have now become rare and are threatened with extinction. An ideal environment for a wide variety of mammals such as sambar deer, monkeys and bears, but also reptiles, amphibians and 200 different species of birds. The best time to travel is between November to June.
Periyar National Park
The Periyar National Park, located in southern India, impresses with its almost evergreen, tropical jungle landscape, which makes up almost 75% of the park. The park's mountainous terrain can be explored on trekking tours and hikes. Alternatively, the park also offers the opportunity to observe the surrounding landscape while rafting on bamboo rafts on the river or the reservoir. In addition to the large number of different plants, with a bit of luck tigers and almost certainly elephants, various species of deer, wild dogs, and many species of monkeys can be spotted in the Periyar National Park. In addition, 320 species of birds, 30 species of snakes, turtles, lizards, and fish are at home here and some are endemic – i.e. only found here the most Endangered Animals. The best time to travel to see tigers is the dry season December to April, the landscape is tropically green between July and September if you want more about the timing check the page-India Travel Guide: Tips for traveling to India