Food from India is a delicious Asian cuisine with many spices developed over centuries.
I love Indian food as well as most of the rest of the great varied Asian cuisine, but Indian cuisine is perhaps the most diverse and extensive in all of Asia because the country is so vast and ancient and influenced by so many cultures.
See the dishes first and then go down to the background, history and geography of Indian food, it's a huge subject. A journey in itself.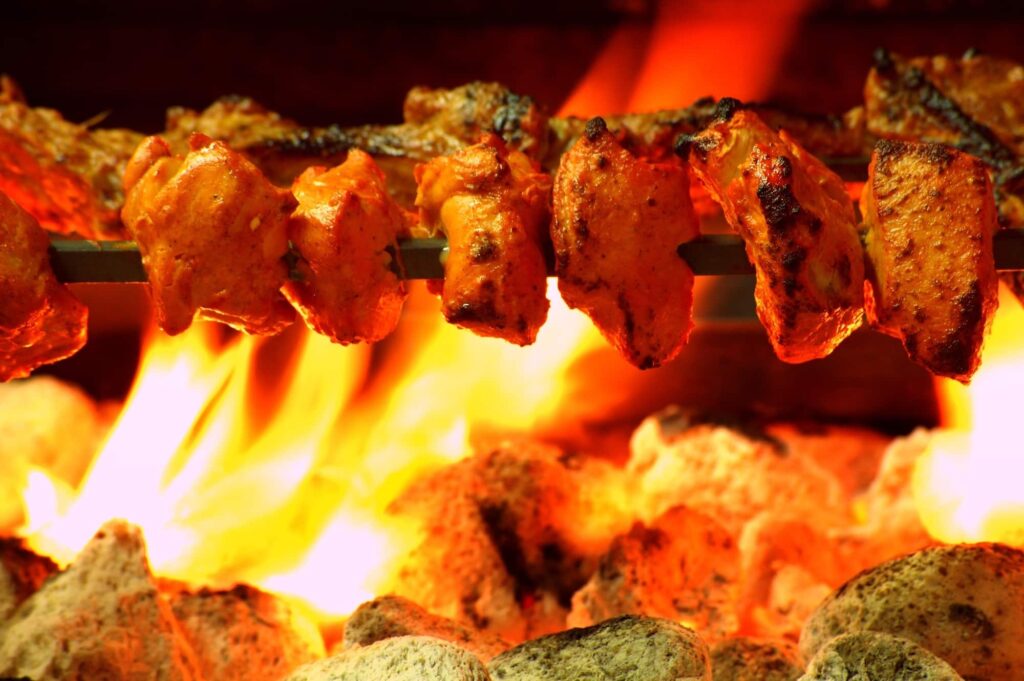 Indian food, everyone should taste.
Here you will get some suggestions for delicious Indian dishes, which you can choose both in India on a trip in the great country or when you are standing in the kitchen. They're classics, and they come from both north and south, and they can appeal to your inner wanderlust. But let's start with a small dip that goes well with most meat dishes. An accessory I always order.
Raita, dip with cucumber, yoghurt, garlic and mint
Raita is a side dish, a dip much like Greek tzatziki, in Indian cuisine made from dahi (almond yoghurt, just like there is almond milk) along with raw (usually cucumber) or cooked vegetables, less often fruit, or in that case of Boondi Raita, with fried lumps of besan butter. The closest approximation in Western cuisine is a side dish, dip, or cooked salad. Raita is a yoghurt-based dip and is a really good counterpoint to spicy Indian dishes. Greek yoghurt is used for the Raita dip, and cucumber and diced tomato are added to the dressing. You drain the moisture from the tomato and cucumber by sprinkling them with salt and letting it drain in a sieve. For example, use coriander, mint, cumin and lime juice. There are several variations of this delicious dip in Indian cuisine.
Paratha
Paratha, while definitely a cracker, is not baked like Naan is. Rather, it is fried in a tawa, a stone pan, with butter or cooking oil. While naan is usually rolled out once and turned up to the side of the tandoor, paratha is often rolled out several times, creating a very flaky bread. Really delicious.
Pani Puri
Pani Puri or Golgappa is popular street food in India. Pani Puri consists of a round or ball-shaped, hollow puri (a deep-fried crispy crepe), filled with a mixture of a type of soup with different flavours (known as Teekha Pani), sweet chutney, potatoes and onions.
It is a favourite chaat snack for almost everyone in India. With so many tastes and flavours in your mouth, you just can't get enough when you have Pani Puri!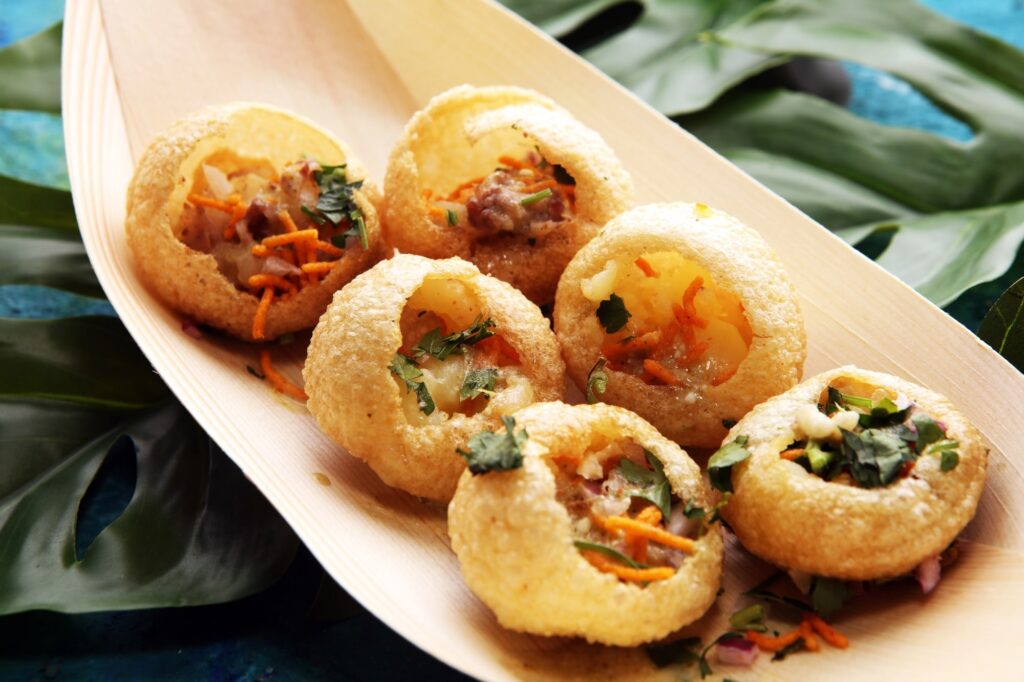 Butter Chicken also called Makhan Murg
Butter chicken, traditionally known as Murgh Makhani, is a type of chicken curry made from chicken with a spicy tomato and butter sauce (Makhan). Its sauce is known for its rich texture. In addition, the cream sometimes gives the curry sauce a silky smooth and rich texture.
Butter Chicken made of grilled chicken pieces cooked in buttery creamy tomato sauce served with Kerala Parotta.
Dal Tadka in Karahi with Spicy Oil and Coriander.
Dal Tadka is a dish you will often see on an Indian restaurant menu. It is a simple but very tasty dal made with a few basic spices and herbs and without any vegetables added, except often tomatoes.
It's a creamy and nourishing soup, with the perfect blend of the strength of garlic and red chili peppers and the acidity of tomatoes. Top all this with a 'tadka' of hot oil with mustard seeds cracked wide open to infuse their amazing flavor into the lentils and you have a recipe for comfort food at its best.
Indian spicy Chaat item Sev Puri filled with potato, Sev Namkeen, coriander, chutney isolated on white background. It is a most popular snack in Mumbai, Maharashtra.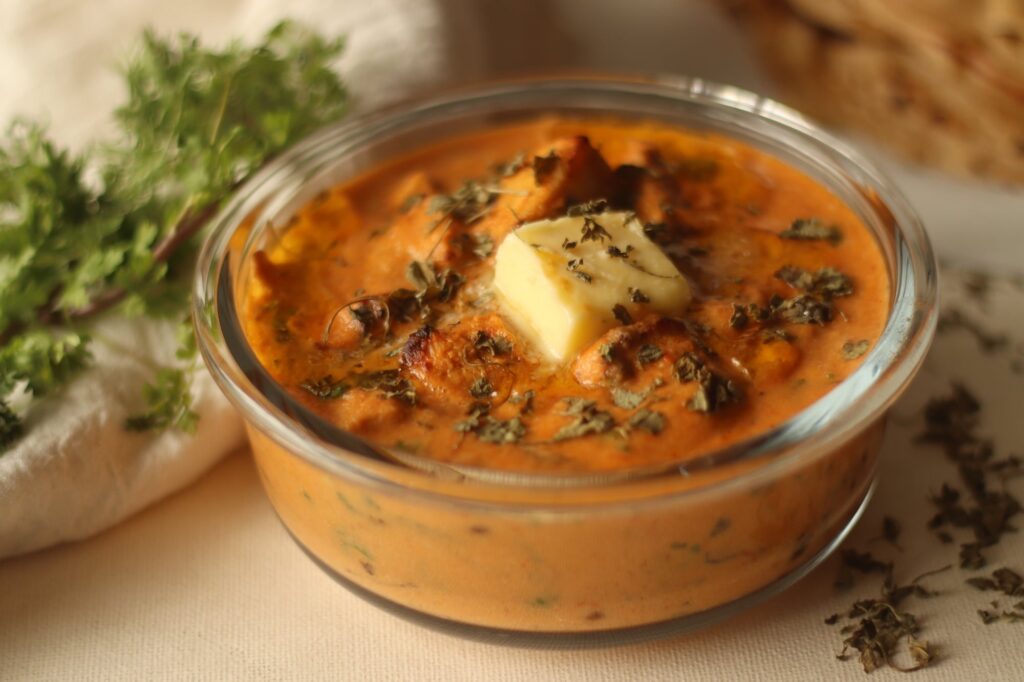 Yellow Daal Tadka
A delicious Indian Dal Tadka that is irresistible.
If you love a good Indian Dal Tadka, maybe try the other delicious Dal: Made with a blend of three types of healthy lentils – Toor dal, moong dal and masoor dal – it's creamy, garlicky and smoky, and it's perfectly spiced. The tadka or tempering of mustard seeds and ginger stirred in at the end takes this dal from ordinary to sublime.
Chaat
A universal Indian typical lunch dish, is spicy chickpeas.
Papdi Chaat is a popular street food from North India where crispy Papdi (fried milk dumplings) are topped with a variety of toppings like chickpeas, boiled potatoes, yogurt, chutney, coriander and more! These are highly addictive and are like a burst of flavor in every bite!
Chaat as an Indian street food has reached international recognition. And it can be anything from aloo tikki to samosa to Golgappe, Papdi Chaat and much more. Basically anything that falls under the big umbrella of what we refer to as "Indian chaat" aka street food. It is an important food chapter in the big book of Indian cuisine.
Papdi chaat is a chaat that hits because of the variety of texture and flavors it has in every bite. Papdi refers to round fried crackers usually made from plain flour. These crispy crackers are topped with various toppings and chutneys to give this chaat layers of texture and flavor.
Every bite of this chaat is a little spicy, a little sweet and a little sour. There is also the pleasant crunch from the top, along with fresh coriander and pomegranate, which makes it refreshing.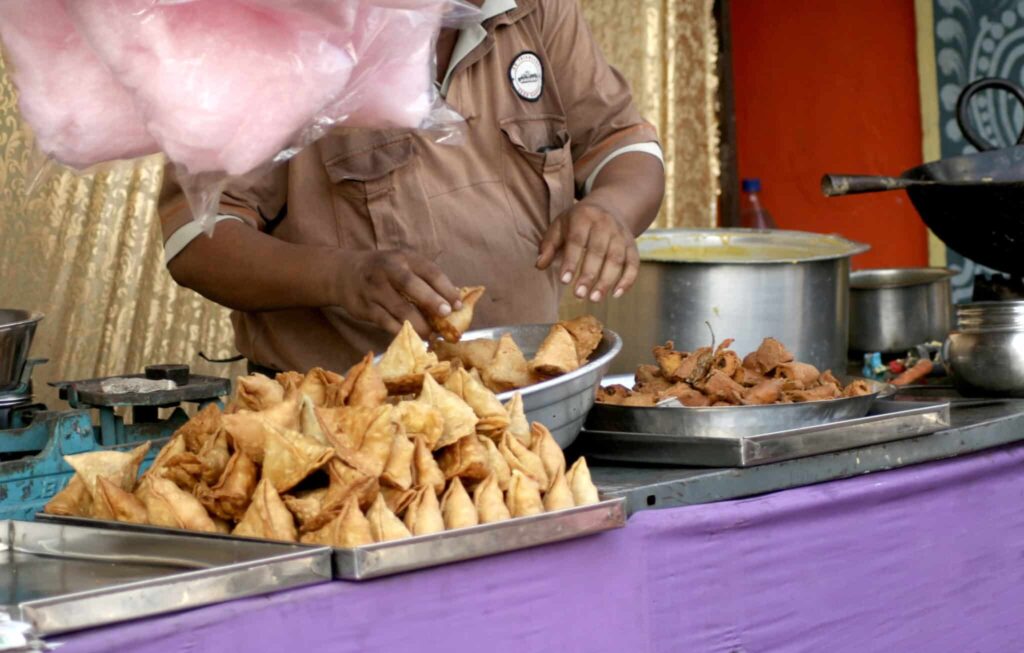 Samosa
Small crunchy filled almost puff pastry-like puffs in phyllo dough.
Indian Tandoori Chicken
Tandoori chicken is a most popular dish in India which is made by marinating chicken in yogurt and spices and then cooking it in a tandoor or clay oven. The result is a flavorful, moist and lightly charred chicken that is often served with rice or naan. The origin of tandoori chicken is unclear, but it is believed to have originated in the Punjab region of India. The dish likely became popular due to the abundance of tandoors in this region. Tandoors are traditionally used to cook bread, but they can also be used to cook meat. The taste of tandoori chicken can vary depending on the spices used in the marinade. Common spices include garam masala, cumin, turmeric, paprika, and chili powder.
The chicken is often served with a mint yogurt sauce or chutney. Making tandoori chicken at home isn't difficult, but it does require some planning ahead of time. The chicken needs to be marinated for at least four hours, preferably overnight. The marinade can be made with Greek yogurt, which adds thickness and helps the spices adhere to the chicken. When ready to cook, preheat oven to 400 degrees Fahrenheit. Place the chicken on a wire rack over a baking sheet and roast for 20-25 minutes. The chicken is cooked when the juices run clear when pierced with a knife.
Matar Paneer is something for vegetarians too
Matar Paneer is a popular vegetarian dish from India that is made with peas and cottage cheese. The dish is usually prepared in a tomato-based sauce and can be seasoned to taste. Matar Paneer is often served with rice or naan bread. The origin of Matar Paneer is unclear, but it is believed to have originated in the Indian subcontinent. The dish is popular in both North India and South India. In northern India it is often made with paneer (a type of Indian cottage cheese), while in southern India it is more common to use tofu. Matar Paneer has a mild yet rich taste. The tomatoes give the dish a light sweetness, while the spices add depth and heat. The dish can be made as spicy or mild as you like.
A recipe for Matar Paneer
This dish is relatively easy to make at home and can be made either in a pressure cooker or in a saucepan on the stovetop. To make it in a pressure cooker, simply fry onion, ginger and garlic in oil until golden brown. Then add the tomatoes and cook until soft. Then add the green peas and paneer, along with the spices (cumin powder, coriander powder, garam masala, turmeric and red chili powder). Pressure cook for 3-4 whistles. Once done, let the pressure release naturally and then open the lid. To make it on the stovetop, simply follow the same steps as above, but cook on medium heat until everything comes together. This will take longer than cooking in a pressure cooker, but the end result will be just as good! Serve hot with rice or roti. Enjoy!
Dhokla
Popular Indian Gujarati dish, traditional street food, Sev Khaman Dhokla, served with chutney or chili.
Indian food has its own healthy burger
Affectionately called a Bombay Burger. A vegetarian and much-used hamburger look-a-like from healthy India.
Vada Pav is one of Mumbai's most famous dishes. It is almost synonymous with the city! This popular street food is loved by everyone in India.
So what exactly is a Vada Pav?
So what exactly is a Vada Pav? Vada = Fried potato patties and Pav = hamburger buns. You could say it's a kind of potato sandwich or hamburger, but what makes it so special is all the chutneys that come with it!
Want to make Vada Pav yourself? There are four main ingredients – vada, the dry garlic coconut chutney, the green chutney and the sweet tamarind chutney. You can skip the green and sweet chutney if you don't have time, but I highly recommend not skipping the garlic chutney. This is what makes vada pav absolutely special in my opinion.
Indian Famous Street Food Vada Pav is also known as Vada Paav.
Wada Pav or Wada Pao is a vegetarian fast food dish from Maharashtra.
Eaten by both Muslims, Hindi and us, goat meat or lamb in tomato sauce is explained a little too briefly. Rogan Josh consists of pieces of lamb or mutton braised for approx. 2 hours at approx. 150 C degrees with a sauce flavored with garlic, ginger and aromatic spices (cloves, bay leaves, cardamom and cinnamon), and in some versions with onions or yogurt. After the initial braising, the dish can be finished off with the Pokhtak steaming technique if you're all into the Indian style of cooking. The meat should be so tender that it can be mashed with a fork. It is one of the most famous Indian dishes.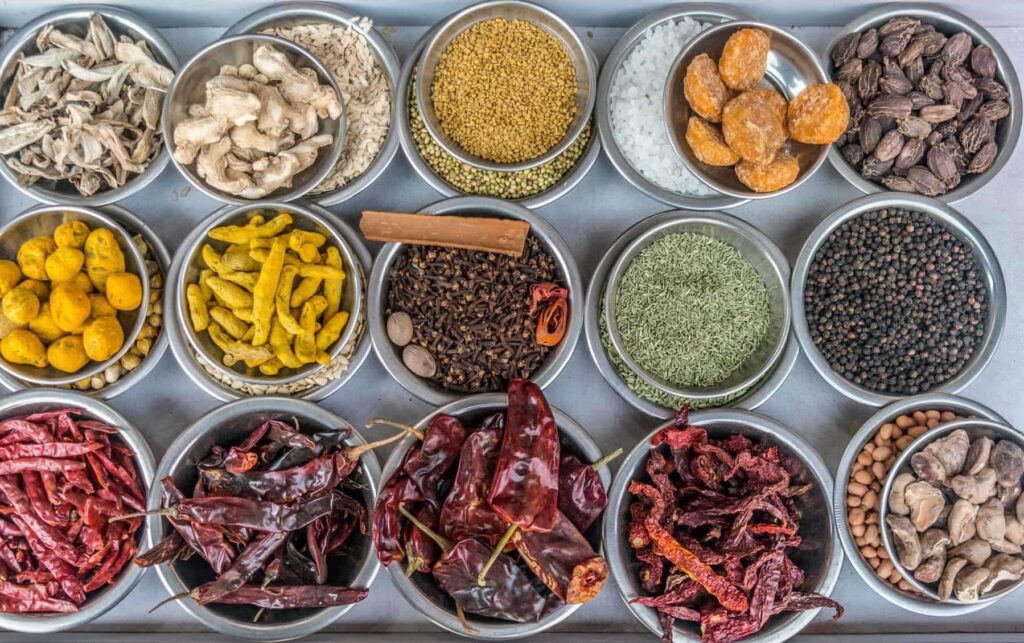 Tea (Chai)
Tea (Chai) as an expression is steeped in a rich history. The name "chai" is actually the Hindi word for "tea", which was derived from "cha", the Chinese word for "tea". In this case, the Hindi term chai means a mixture of spices steeped in a tea-like drink. Recipes for chai vary between continents, cultures, cities and families. However, the traditional ingredients in a spiced tea blend usually include black tea mixed with strong spices, such as cinnamon, cardamom, cloves, ginger and black pepper. The spiced tea mixture is usually brewed strong with milk and sweetened with sugar or honey. However, the milky sweet tea treat we order in coffee and tea shops today has very little in common with the origins of Indian chai.
Mango Lassi
We are nearing the end of the meal. Mango Lassi is a delicious creamy drink with mango, yoghurt, milk, a little sugar and a sprinkle of cardamom. It's cool and refreshing on a hot day! there are several other variants.
Cold Indian drink Lassi
There are a variety of cold drinks available in India, from the refreshing lassi to the more exotic sorbet. Indian cold drinks are often made with yoghurt or milk and are often flavoured with ginger, cardamom, or other spices. Lassi is a popular Indian drink made with yogurt, water and spices. It is usually served chilled and can be made sweet or savory. Sherbet is a cold drink made from fruit juice, milk and sugar. It is often flavored with rose water or other floral essences.
What else should we write about Indian food?
We will collect some recipes, they will come. We are missing 3-5 dishes that we love, we are probably missing more. Maybe interviews, restaurants, etc. Everything will come.