What to do and what to visit in Madurai?

Madurai the City of the Temples, is also know nicknamed by the Athens of South India. Over the centuries, it has been a hotspot for tourism, but it is also considered the cultural capital of Tamil Nadu. If you plan to visit Madurai, you will be spoiled for choice as the activities are rich and diversified. Here is our travel guide to visit Madurai.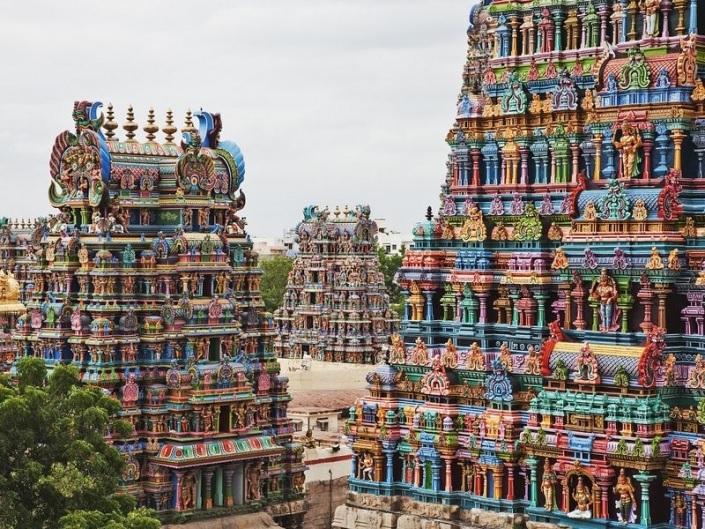 Located along the banks of the Vaigai River in the state of Tamil Nadu, Madurai, which has existed for 2,500 years, is also an important textile center.
Madurai is known for the Meenakshi temple which stands in the heart of the city and for its jasmine flowers which Tamil women adorn their hairstyles
A visit to Madurai would be incomplete without a small pilgrimage to the Meenakshi temple. As soon as you set your plan to visit this high Hindu place of worship, you will be greeted by the magnificent gopurams of the Meenakshi temple. The temple dedicated to Meenakshi an incarnation of the Hindu goddess Parvati, the wife of Shiva, is a true architectural masterpiece. It consists of two shrines, one for each god. It is one of the most popular holy places in India, where pilgrims go to marry or purify themselves.
How to get there ?

The city of Madurai is located on the banks of the Vaigai River in the Madurai district of Tamil Nadu. Madurai is surrounded by several hills. The three hills namely Yanaimalai (or Elephant Hill), Nagamalai (or Snake Hill: literally the hill of snakes) and Pasumalai, respectively constitute the limits of the city.
How to reach Madurai ?
By air: Madurai has its own airport 12 km from the city. Flights are scheduled to the city of Madras, Calicut and Bombay.
By train: Madurai has a fairly developed railway infrastructure that connects it to all major metropolises in southern India.
By road: Madurai is connected by roads to Chennai, Trichy, Rameshwaram, Kanyakumari etc.
Bes time to visit Madurai:

The temperature in Madurai varies between 37.5°C -26.3°C in summer and 29.6°C – 20.9°C in winter. The best time to visit Madurai is from November to February. More information on Where and when to travel to India to have a favorable climate!
What to do and what to visit in Madurai?

Madurai is rich in tourist attractions. So, if you are looking for a unique travel experience with unparalleled pleasure, we offer you the list of 6 must-visit places in Madurai below.
Meenakshi Temple

It is unquestionably the most captivating and famous destination among all Madurai attractions. The Meenakshi temple is a sumptuous colorful Hindu religious building which remains a living testimony to the sculptural art that existed in India.
Built on 15 acres of land, the temple is a place of ceaseless activity where one can mingle with pilgrims and tourists. Some of the best features of the temple include the Hall of a Thousand Pillars where you can see all the beautifully aligned pillars from any angle, as well as the musical pillars which, when struck, begin to magically produce a musical sound.
Thirumalai Nayakkar Palace

The second most popular attraction in Madurai is the Thirumalai Nayakkar Palace. It was built by King Thirumalai Nayak in 1636 (from which it takes its name) in the Indo-Saracenic style with high arches adorning the palace. Because it was the former residence of the king, only a quarter of the current structure is still intact. Efforts have been made in recent years for the restoration of the palace.
St. Mary's Cathedral

It is one of the oldest Catholic churches in India and that is why it is considered one of the major tourist attractions in Madurai. It might surprise you to learn that the church was built by combining various architectural styles – European, Roman and Continental. Do not forget to admire the tall and beautiful bell towers designed according to the Roman architectural style.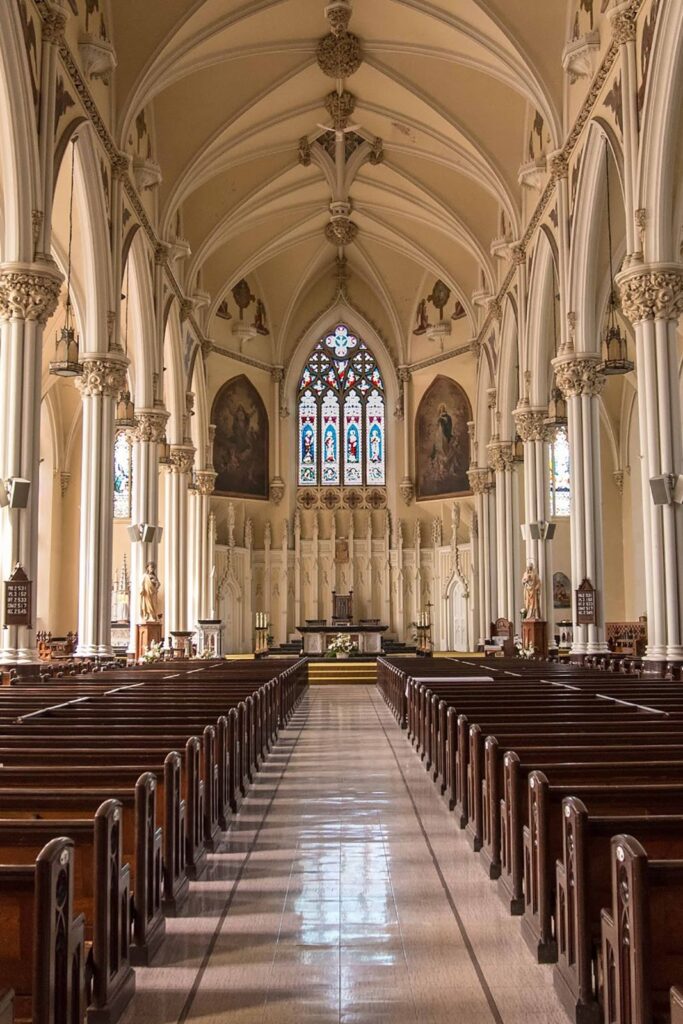 Gandhi Memorial Museum

This museum is one of the five Gandhi Sangrahalayas (museums) in India. It was designed in 1959 and houses a rich collection of illustrations. In fact, these are illustrations that depict episodes of the Indian freedom struggle. You will also find a pictorial gallery exhibiting the life of Mahatma Gandhi. The museum also offers a collection of handicraft specimens from the southern states of Tamil Nadu, Andhra Pradesh, Karnataka and Kerala. You will also see Gandhi's personal belongings on display there such as his glasses, his shawl and also the bloodstained Dhoti he was wearing when he was assassinated.
Thiruparankundram
Thiruparankundram is located 10 km south of Madurai city. It is known for the Thirupparamkunram Murugan temple, which is one of the six abodes of Murugan. It is also a popular tourist attraction.
This temple of Lord Murugan (also known as Kartikeya- son of Lord Shiva) is visited every year by an impressive number of pilgrims; so much so that it is considered the second most visited place of worship in Madurai.
This is an opportunity to visit Tirupparankunram Dargah which is placed at the top of Tirupparankunram hill. It is a very famous Islamic dargah (shrine), which contains the tomb of the venerable Islamic sultan Sikandhar Badushah Shaheed.
Banana Market

Bananas, especially unripe ones, are an important part of Tamil Nadu food culture. This is an opportunity to take a closer look at this wholesale market specially reserved for the sale of bananas. You will discover the sixteen different varieties of bananas that are sold there. The activity within this market is incessant, the animation is at its height and it seems that it never seems to stop.