1-Travel Guide: Trip to India The best tips for a trip to the Golden Triangle in India
Trip To India From crazy Delhi to the world wonder of the Taj Mahal and Jaipur: a journey through the Golden Triangle is fascinating, contrasting, and an adventure that you won't soon forget. Some of the country's most beautiful and important sights lie in the Golden Triangle of northern India.
Planning a trip to India's Golden Triangle? Here we give you our best tips: What is the ideal itinerary? When is the best time to travel? How safe is a trip to India? How do I get from A to B? Answers to these questions can be found in our travel guide.
The Golden Triangle in India: Overview & Interesting Facts
Entry to India: Visa tips
Transport in the Golden Triangle: How to get from A to B
Route through the Golden Triangle in India
Accommodation: Accommodation in India
Travel Expenses India
Eating and drinking in India
Safety in India: How Safe is Traveling Through the Golden Triangle?
Photographing in India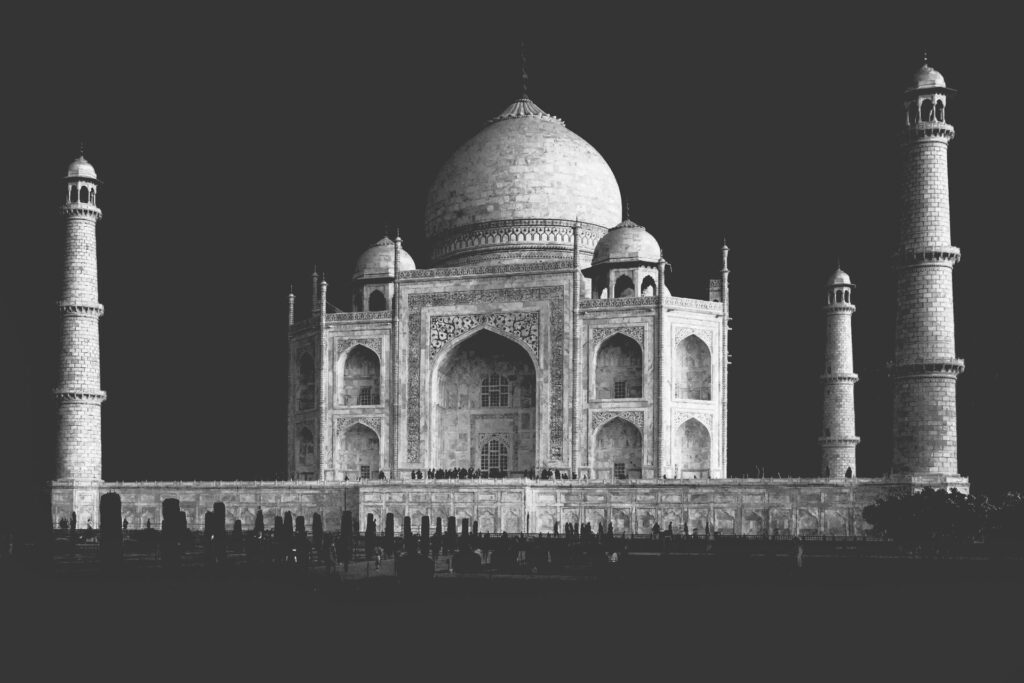 2-The Golden Triangle in India: Overview & Interesting Facts
That awaits you in the Golden Triangle
The Golden Triangle is the most famous tourist region in northern India and stretches across the two states of Rajasthan and Uttar Pradesh. Some of India's most famous attractions are found in the Golden Triangle.
As the name suggests, you travel to a total of three places here: First of all, there is Delhi, the capital of India. Then of course the Taj Mahal, one of the seven wonders of the world. And last but not least the so-called pink city of Jaipur, capital of the state of Rajasthan.
The best time to travel to the Golden Triangle
The optimal travel time for the Golden Triangle is in February and March. From April, the thermometer can rise to temperatures of over 40 degrees Celsius. In December and January, on the other hand, it can still be very cool. The summer months of July and August are monsoon season. In October and December the climate is suitable for traveling again.
When choosing the travel time, you should always consider Indian holidays. For example, we were in India during Holi, which is of course very exciting on the one hand, but can lead to restrictions on the other.
3-Transport in the Golden Triangle: How to get from A to B
Transportation Options
Of course, the most comfortable (and also most expensive) way to travel is with a private driver. You can stop whenever you want and are very flexible. In addition, a private driver is of course also a good choice in terms of safety.
Trains are a great way to get from A to B in India. Personally, The morning train ride to Agra is very comfortable and adventures. One can really enjoyed watching the landscape go by.
The third variant: Of course you can also travel through India by public bus. To be honest, that was a bit too adventurous for our first trip to India.
Tip: Book Transport Tickets
We ourselves opted for a combination of private driver and train and found it perfect. Unfortunately, it is not that easy to book the train ticket for India from Europe, because you often need an Indian phone number for the booking.
Individual or organized?
One of the most important questions you need to ask yourself before you travel to India: Do you want to travel on your own or would you rather get help with the organization. Of course, both have advantages and disadvantages.
We didn't want to be completely on our own on our first trip to India, so we decided to travel to India with erlebe-fernreisen. Erlebe-fernreisen supported us in organizing our transport and booked train tickets, private transport and accommodation.
So although we had an individual trip for two, we were allowed to enjoy some comfort. When we arrived in Delhi, we received all the documents from an employee of the partner agency. This is of course practical, because we didn't have to worry about anything on site.
Transportation within the cities
For transports within the cities, we usually stopped a motorized rickshaw. Depending on the length of the route, we paid around 50 Indian rupees. Sometimes we also used cycle rickshaws.
In Delhi we took the metro. In principle, this is very simple and cheap: the tickets are bought at the counter before you start, the price per trip is around 50 rupees. However, you usually still have to walk quite a long distance to reach the final destination. For longer distances, a taxi is a suitable solution.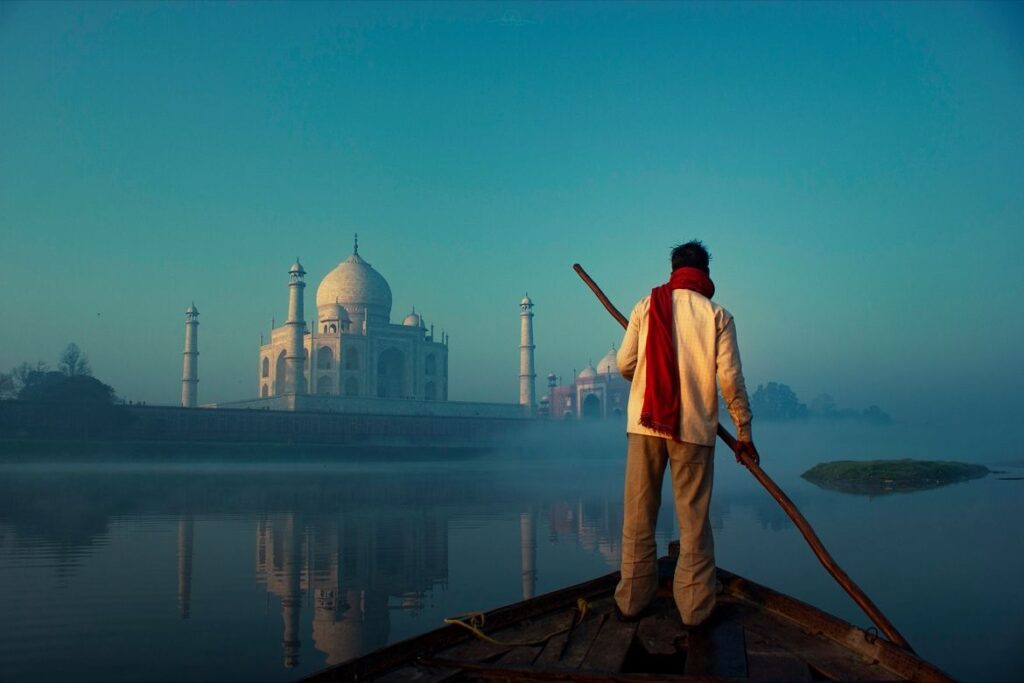 4-Route through the Golden Triangle in India
A journey through the Golden Triangle takes you to the three highlights of northern India. In principle, the route is always the same – you just have to think about which direction you want to travel in.
Delhi
Most start their journey in Delhi, because India's largest airport is located here. Although Delhi can be quite overwhelming, we were able to acclimatize well there. We recommend planning around three nights for Delhi.
Taj Mahal
From Delhi we continued by train to Agra. As unspectacular as Agra is: There is no getting around this city, because India's sanctuary, the Taj Mahal, is located here. Two nights will get you by, three is even better.
Jaipur
The third and final stop of the trip is Jaipur, also known as the Pink City. Jaipur is a five-hour drive from Agra. On the way, be sure to stop at Fatehpur Sikri. Plan about two to three hours for this. In Jaipur itself we stayed two nights. That was sufficient for us, but if you like it cozy, you should stay three nights.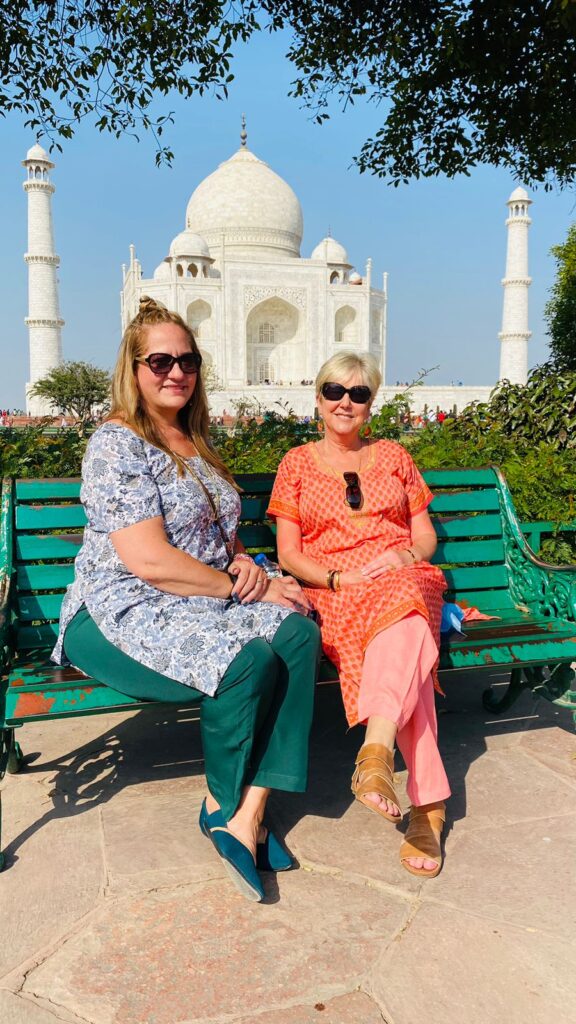 5-Accommodation: Accommodation in India
It's one of those things with hotels in India: many of them are very cheap, but they definitely don't meet European standards. Unfortunately, many hotels in India leave a lot to be desired, especially when it comes to cleanliness.
In terms of style, many hotels in India are very stately and kitschy. Many hotels also carry the addition Heritage Hotel, which indicates that you can expect an authentic, often magnificent hotel here. These hotels are usually located in a historic family home.
If you want a certain standard in a hotel in North India, then you have to plan about 50 to 70 euros per night (for a double room). Breakfast is usually included in the price.
Travel Expenses India
Money: Currency and payment in India
The currency in India is Indian Rupees. There are many ATMs, but our experience is that they often don't work. We also had some cash (euros) with us, which we definitely did not regret. Changing from euros to Indian rupees is no problem in many hotels. However, the course is often not the best. Credit cards are accepted almost everywhere in larger restaurants and hotels.
Travel expenses Golden Triangle
How much does it cost in India…?
Double room in a nice hotel: 50 to 100 euros per night
Dinner for two including drinks in a nice restaurant: 600-700 Indian rupees
Beer in a restaurant: 250 Indian rupees (alcohol is quite expensive)
Admission to the Taj Mahal: 1,300 Indian rupees
Train journey from Delhi to Agra (1st class): approx. 1,500 Indian rupees
As you can see, India is a very cheap travel destination. For nice hotels and sights you have to plan a little more money. Eating out and transportation are very affordable though.
7-Eating and drinking in India
The food in North India and Rajasthan is phenomenally good. Believe us, you will love it! If you don't like spicy food, you should let us know when you place your order, as India is known for its spicy dishes.
India is a paradise for vegetarians and vegans: There are vegetarian and mostly vegan dishes everywhere. Many restaurants in India are also completely vegetarian.
The more common dish is shahi paneer. Paneer is a type of cream cheese that comes in a variety of flavors. With the Shahi Paneer, it is prepared in an incredibly delicious and creamy tomato sauce. Another highlight are of course the countless dishes with dal, i.e. lentils. Dal Makhani is Nordic through and through and delicious as hell.
The various curries go best with a classic or garlic naan bread and some rice. A so-called thali is also highly recommended: in many small bowls you get a wide variety of dishes, along with some rice and bread.
Another note on hygiene in India: One often reads that a gastrointestinal illness is part of every trip to India. We can't confirm that as we haven't had any problems in this regard. However, we have been very careful about what and where we eat. We have completely avoided street food. The fact is: even if you follow all the rules, you can unfortunately easily catch a gastrointestinal infection in India.
Our favorite restaurants while Trip To India
Peacock Rooftop Restaurant: A great restaurant in Jaipur that we went to three times! The food is fantastic (try the Thali!), the atmosphere is great and they even have good coffee. If you come in the evening, you should reserve.
Karim's: Very good and authentic restaurant in the center of Delhi, where many locals also eat. The Shahi Paneer is extremely delicious.
Shankara Vegis Restaurant: Very nice vegetarian restaurant in the center of Agra with a roof terrace.
8-Safety in India: How Safe is Traveling Through the Golden Triangle?
First we explain to guest all the negative headlines about India have given us a bit of a headache. We can reassure you, never once felt unsafe in India and have not had any negative experiences either.
Nevertheless, we do not want to allay the danger, especially for women traveling alone. We were very happy that there, because we felt much safer that way. In any case, India needs the right amount of caution and common sense – that much is certain.
Our concrete safety tips
In the evening one tried not to walk alone through the streets anymore. Most crimes are committed in the dark. So we really tried not to go out in the evening as much as possible. Of course you also want to go out to eat. We always took a taxi for the journey. It is best to order the taxi through your accommodation.
We strongly recommend that all women wear appropriate clothing. We have always dressed covered. We can recommend long trousers, wide dresses and tops without a neckline. It is best to always have a large cloth with you that you can drape over your shoulders if necessary.
Unfortunately, India has deeply patriarchal structures. That's why you see significantly more men than women on the street. Men sometimes come uncomfortably close. There is a different relationship to distance in India, i.e. there is often little physical distance between the other conversation partner. As a woman, you should be particularly careful that other men do not get too close to you. You can and should definitely communicate this clearly and confidently.
Despite covered clothing, you have to be prepared for the looks of other men. Some will also try to secretly photograph you. But some won't even bother to hide it.
If you feel very unsafe, then we can highly recommend a trip with a private driver.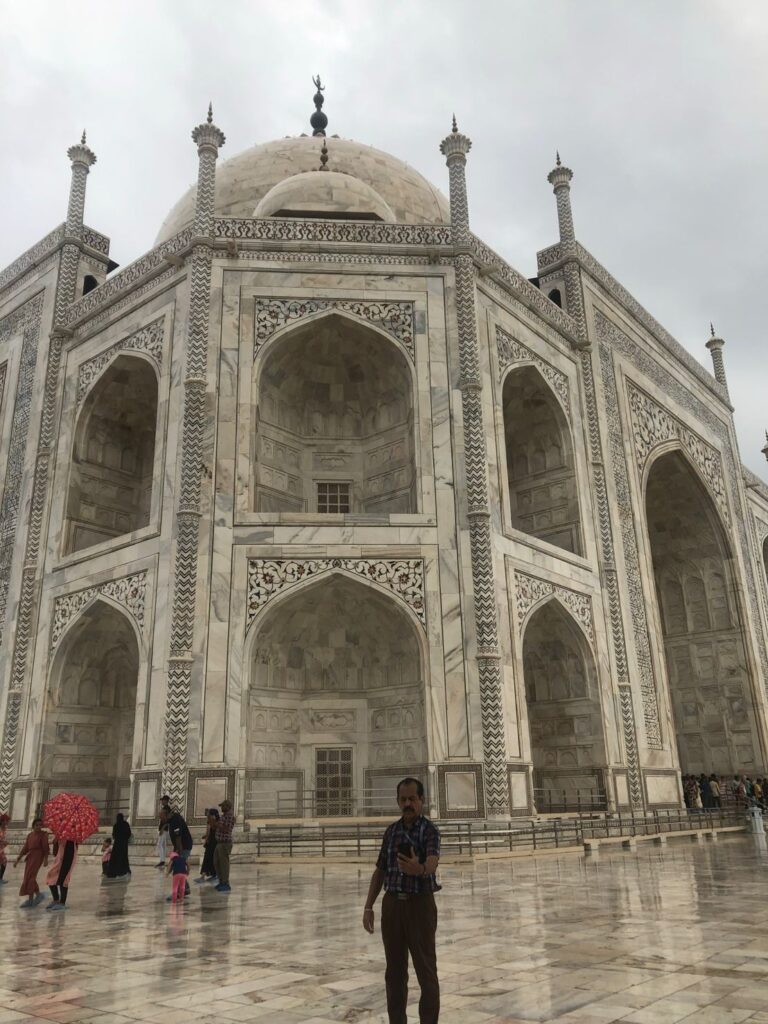 9-Photographing in India
The Golden Triangle in India is a photography enthusiast's paradise. Apart from the many great buildings and palaces, the people are of course also an incredibly fascinating photo motif. When entering various attractions, you sometimes have to pay an additional fee for the camera.
When photographing people, we have always asked the person in question for permission beforehand. It is best to choose people with whom you have some kind of relationship: your rickshaw driver or a salesman, for example. If you ask politely, very few people will refuse.
Thank you for checking our post: Trip to India